Bernalillito Mesa Loop Hike
In Ojito Region
Map File Source: DeLorme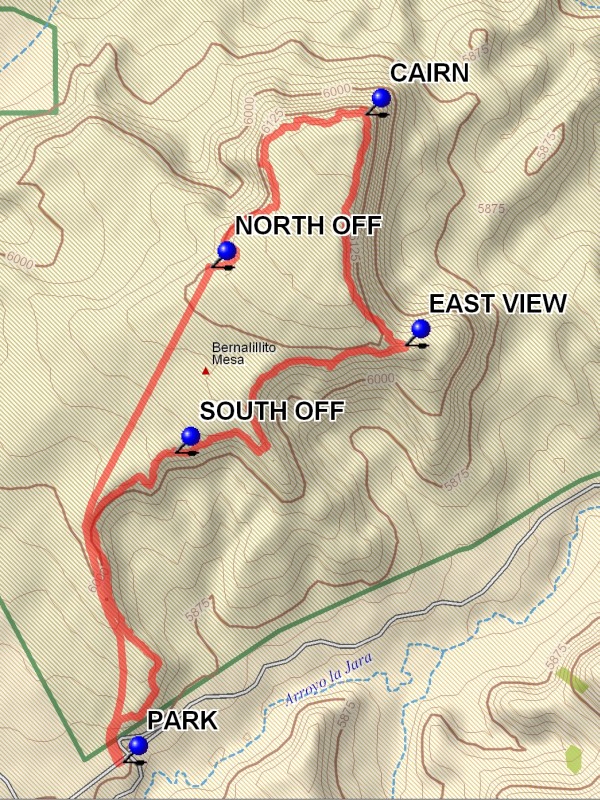 Hike Key:
H10420
Last Updated:
12/15/2020 12:00am
Last Updated By:
Marilyn Warrant
Hike Class:
B (Moderate)
Hike Distance:
5 mi
Minimum Elevation:
5880 ft
Elevation Change:
330 ft
Total Uphill:
450 ft
Total Downhill:
450 ft
Avg. Grade:
6 %
Route Type:
CCW Loop
On Trail:
No
Paved or Gravel Roads:
No
GPS Advised:
Yes
Drive Distance Round Trip:
100 mi
Drive Time One-Way:
1:00
Hiking Seasons:
Spring, Fall, and Winter
New Mexico Game Unit:
9
Hike Status:
Published
Access Description:
Ojito Wilderness Area Access
Highlights
An easy hike which allows surrounding area views from a height. Many rock formations.
Cautions
None.
Trailhead Directions
From Albuquerque take I-25 north to exit 242. West on US 550 to milepost 21. Turn left at sign for Cabezon Rd. Go through the gate. Check odometer – the destination is 12.5 miles from here. The road forks immediately. Take the left fork (Cabezon Rd.) and not the right one (White Mesa). Cabezon Rd. crosses Zia land, then at the cattle guard enters Public Land. The road is slick and dangerous when wet. Drive about 12.5 miles to the top of a short steep rise and PARK (0.0 mi) on the left on the stone surface.
Actual Hike
From parking go north across the road and go along the edge of the mesa to the northeast. The mesa has curves and peninsulas which provide a variety of views of the landscape below. At SOUTH OFF (1.0 mi) you can look down the steep slope that you did not have to negotiate. Continue on to the EAST VIEW (1.8 mi). Then go back and north along the edge with its many cracks to an other view to the north and the Jemez at the CAIRN (2.5 mi). Then turn west again along the mesa edge for a variety of rocky terrain and cracks until you reach the NORTH OFF (3.3 mi) point. A nice place for lunch and views to the north and ever present Cabezon. The a beeline back southwest across the mesa to the other edge and parking.
Comments
An easy hike which allows surrounding area views from a height without dealing with the steep on and off slopes involved in doing the Bernalillito Mesa hike.
Waypoints
PARK: N35 29.173, W106 56.395
SOUTH OFF: N35 29.802, W106 56.265
EAST VIEW: N35 30.021, W106 55.689
CAIRN: N35 30.491, W106 55.788
NORTH OFF: N35 30.180, W106 56.174
Map Filename:
BernalillitoMesaLoop_Dnew.jpg
Hike GPS File Name:
BernalillitoMesaLoopWayTrack_DBDB.gpx
Hike GPS File:
Click
link
to download hike waytrack file
Text Author:
Dick Brown
Map Author:
Marilyn Warrant
Waypoints Author:
Dick Brown
Track Author:
Dick Brown
Maintainer:
Bill Gloyd
Editor:
Marilyn Warrant