Beatty's Trail #25 to Mesa View Hike
In Pecos Region
Map File Source: Garmin BaseCamp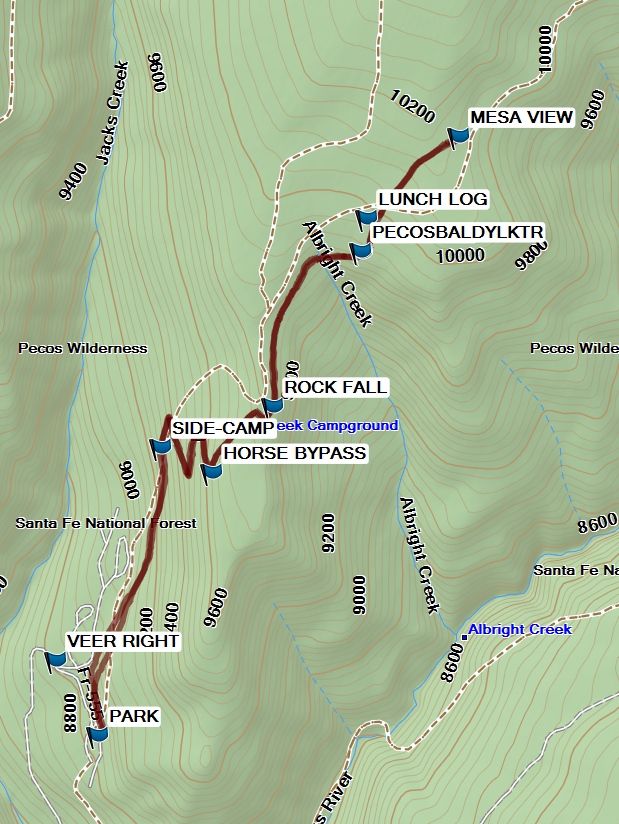 Hike Key:
H10615
Last Updated:
03/11/2021 12:00am
Last Updated By:
Marilyn Fixer
Hike Class:
C (Challenging)
Hike Distance:
6 mi
Minimum Elevation:
8805 ft
Elevation Change:
1340 ft
Total Uphill:
1400 ft
Total Downhill:
1400 ft
Avg. Grade:
9 %
Route Type:
InOut
On Trail:
Yes
Paved or Gravel Roads:
Yes
GPS Advised:
No
Hiker Limit (NF/BLM/NP):
15 (Pecos Wilderness)
Drive Distance Round Trip:
200 mi
Drive Time One-Way:
2:00
Hiking Seasons:
Summer and Fall
New Mexico Game Unit:
45
Hike Status:
Published
Highlights
Hike in the trees to a mesa. Views, wildflowers, meadows, rocks. Stop to see the hummingbirds at the Terrero store.
Cautions
Hiking poles can help maintain stability going downhill.
Trailhead Directions
Go north on I-25 to Exit 299 Glorieta. Cross over the highway, turn right onto NM 50, and travel 6 mi to the town of Pecos to the junction with NM 63. Turn left, and proceed 20.2 mi to Cowles. Continue about 2.5 mi, VEER RIGHT at the sign to Jack's Creek Horse Campground, and PARK near the pit toilets. With a Senior Pass, the day use fee is only $1.00.
Actual Hike
Locate the trailhead on the north side of the parking area near the toilets. The hike starts off at a consistent 10% grade, through a pine forest, up two full switchbacks to intersect with the HORSE BYPASS (1.5 mi) trail. Take a left there, and go up the hill to the ROCK FALL (1.8 mi) on the left of the trail. The trail continues uphill to the intersection with the PECOS BALDY LK TR (#257) (2.5 mi), though the sign only mentions Jack's Creek. Go as far as MESA VIEW (3.0 mi), which is the high point of the hike. Take in the views in all directions around you. After enjoying the sights, go back downhill to LUNCH LOG (3.5 mi) to have your lunch in an aspen grove. Afterwards, retrace your steps back to PARK. DO NOT take the trail to your right starting at SIDE-CAMP (5.1 mi) that goes to down to the tent campground.
Comments
This hike is a good one on its own merits, but also as an alternative to the Hamilton Mesa hike or any of the hikes to Stewart Lake if the weather looks questionable. In the summer of 2016, a thunderstorm turned the Winsor Creek trail into a flowing stream while Beatty's Trail was completely dry. Also, the road is two lanes and paved to the campground.
The hike data were obtained using a Garmin GPSMap 64st with trackpoints recorded during lunch removed and the track reduced to 500 trackpoints.
Waypoints
Access:
DQ: N35 34.486, W105 41.833
VEER RIGHT: N35 50.267, W105 39.444
Hike:
PARK: N35 50.072, W105 39.307
HORSE BYPASS: N35 50.756, W105 38.937 (1.5 mi)
ROCK FALL: N35 50.929, W105 38.740 (1.8 mi)
PECOS BALDY LK TR: N35 51.333, W105 38.455 (2.5 mi)
MESA VIEW: N35 51.631, W105 38.137 (3.0 mi)
LUNCH LOG: N35 51.418, W105 38.435 (3.4 mi)
SIDE-CAMP: N35 50.822, W105 39.101
Map Filename:
BeattyTrailToMesaViewMap_MW.jpg
Hike GPS File Name:
BeattyTrailToMesaViewWayTrackRev_MW.gpx
Hike GPS File:
Click
link
to download hike waytrack file
Text Author:
Debbie Manoogian
Map Author:
Marilyn Warrant
Waypoints Author:
Debbie Manoogian
Track Author:
Debbie Manoogian
Maintainer:
John Cooper
Editor:
Howard Carr