Base Of Cerro Picacho Hike
In Santo Domingo Region
Map File Source: DeLorme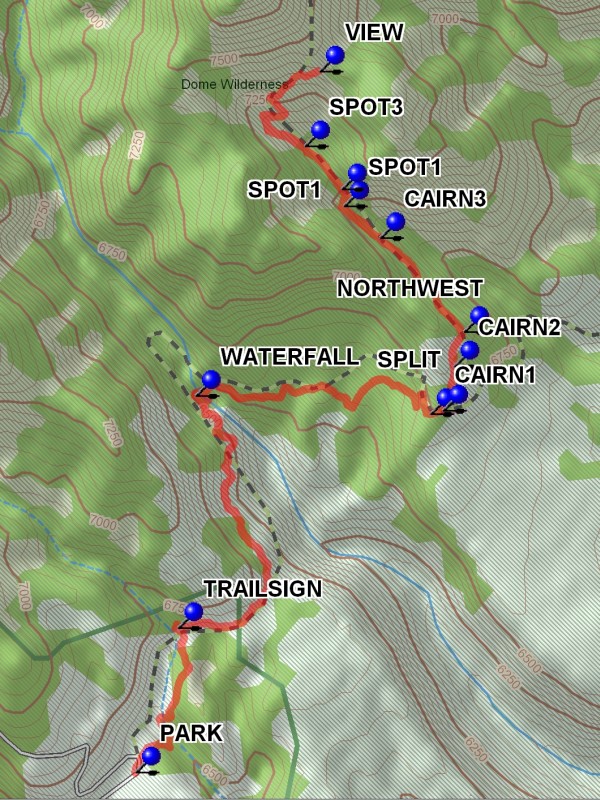 Hike Key:
H10296
Last Updated:
12/15/2020 12:00am
Last Updated By:
Marilyn Warrant
Hike Class:
D (Difficult)
Hike Distance:
6.9 mi
Minimum Elevation:
6430 ft
Elevation Change:
955 ft
Total Uphill:
1490 ft
Total Downhill:
1490 ft
Avg. Grade:
13 %
Route Type:
InOut
On Trail:
Paved or Gravel Roads:
GPS Advised:
Drive Distance Round Trip:
120 mi
Drive Time One-Way:
1:30
Hiking Seasons:
Spring and Fall
New Mexico Game Unit:
6C
Hike Status:
Inactive
Highlights
Rough trail in spots; poles are helpful; nice views of Cochiti lake.
Cautions
May encounter rattlesnakes near the trail. In the Las Conchas burn scar.
Trailhead Directions
I-25 north to exit 259. Go west on SR 22 through Pena Blanca, past the Cochiti Dam and the town of Cochiti Lake, where the route number changes to FR 268. Beyond Cochiti Lake town the golf course is on the right. Go one mile past entrance to golf course and turn right on first road (there is an open-sided barn on left). This is FR 289 – sign says "Dome Rd, to St. Rd 4". A high clearance vehicle is needed, as well as a dry day. Follow this rocky and rough road for 3.5 miles (20 min.) to a wide spot where the road begins a sharp turn uphill to the left. Dome Wilderness Trail sign is on your right at this turn. Park here.
Actual Hike
Follow the St. Peters Dome Trail 118 as it goes briefly into Eagle Canyon, then Sanchez Canyon. Pass a TRAILSIGN (0.4 mi) and cross a small stream and WATERFALL (1.4 mi), and then ascend the far side of the canyon until you reach a trail junction at SPLIT (2.2 mi). Continue on the left-hand trail going north. The trail becomes steep and rocky, sometimes following the course of a small stream. The trail hasn't been maintained well, though you'll see some erosion control measures. You'll have to go over, under, or around logs on this part of the hike. Watch for cairns along the way, some are CAIRN1 (2.2 mi), CAIRN2 (2.4 mi), CAIRN3 (2.8 mi). At NORTHWEST (2.4 mi), you'll start heading in a general northwest direction for the rest of the hike. There are good spots for lunch in sheltered, green small canyons with interesting rocks starting at SPOT1 (2.9 mi). Continue on up the trail to the VIEW (3.5 mi). Then have lunch here or go back down the trail until you find a more shady place that you like, have lunch, then return the way you came.
Comments
The trail continues all the way around Cerro Picacho if you want a longer hike. Wear long pants to avoid getting scraped, and bring hiking sticks to help you on the rocky trail. Higher hiking boots are recommended. Much of the hike is out in the open, so try to avoid hot days and bring plenty of water. Beautiful panoramic views of the Cochiti Lake area. On an exploratory hike with the Senior Sports and Fitness Center, we saw a large pile of bear scat in the middle of the trail. The hike is rated "D" because of the rough, unmaintained trail.
Set inactive — roads washed out resulting from the fire in Bandelier.
Waypoints
TURN289: N35 40.394, W106 22.063
PARK: N35 42.712, W106 23.054
TRAILSIGN: N35 43.009, W106 22.947
WATERFALL: N35 43.489, W106 22.902
CAIRN1: N35 43.451, W106 22.304
SPLIT: N35 43.458, W106 22.272
CAIRN2: N35 43.550, W106 22.243
NORTHWEST: N35 43.621, W106 22.220
CAIRN3: N35 43.816, W106 22.433
SPOT1: N35 43.880, W106 22.525
SPOT2: N35 43.916, W106 22.531
SPOT3: N35 44.005, W106 22.625
VIEW: N35 44.159, W106 22.587
Map Filename:
BaseOfCerroPicacho_Dnew.jpg
Hike GPS File Name:
BaseOfCerroPicachoWayTrack_MWMW.gpx
Hike GPS File:
Click
link
to download hike waytrack file
Text Author:
Marilyn Warrant
Map Author:
Marilyn Warrant
Waypoints Author:
Dick Brown
Track Author:
Dick Brown
Maintainer:
Vivian Heyward
Editor:
Marilyn Warrant