Barley Ridge to Fenton Lake Overlook Hike
In Jemez Mountains Region
Map File Source: DeLorme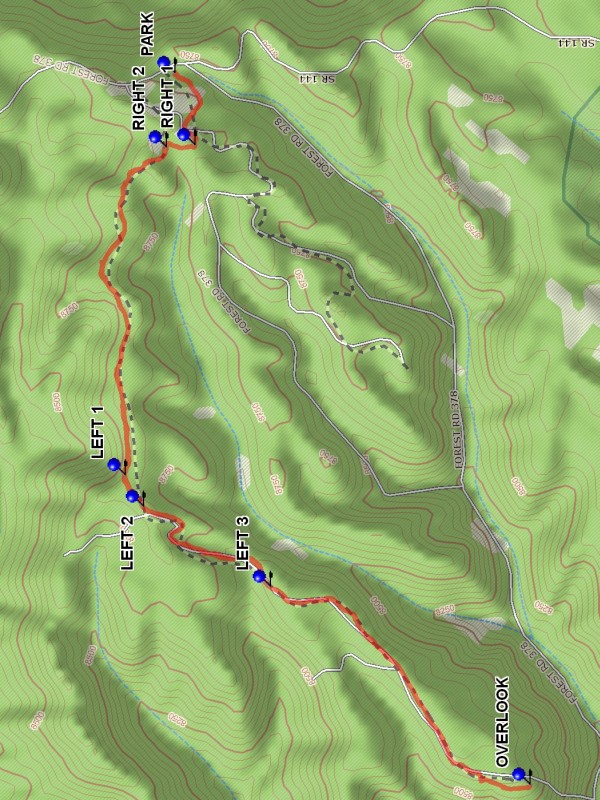 Hike Key:
H10147
Last Updated:
12/15/2020 12:00am
Last Updated By:
Marilyn Warrant
Hike Class:
B (Moderate)
Hike Distance:
6.6 mi
Minimum Elevation:
8580 ft
Elevation Change:
245 ft
Total Uphill:
400 ft
Total Downhill:
400 ft
Avg. Grade:
5 %
Route Type:
InOut
On Trail:
No
Paved or Gravel Roads:
Yes
GPS Advised:
Yes
Drive Distance Round Trip:
156 mi
Drive Time One-Way:
1:45
Hiking Seasons:
Spring, Summer, and Fall
New Mexico Game Unit:
6A
Hike Status:
Published
Highlights
A woodsy hike leading to a great view of Fenton Lake and valley.
Cautions
None.
Trailhead Directions
From Albuquerque go north on I-25 to exit 242 (Bernalillo), west on US 550 (old SR 44) to San Ysidro. North on SR 4 to La Cueva. Take SR 126 west from SR 4 at La Cueva. Take FR 144 north to the Jct. with FR 378 about 1.9 mi and PARK (0.0 mi) there. (See the access track in the waytrack file if necessary.)
Actual Hike
There are a number of branches on the route, and a GPS would be useful to help recover from mistakes. The reward for a correct route is a great view of Fenton Lake in the valley below, and a nice spot for lunch. FR 378 which goes west from FR 144 is used for the Barley Canyon hike. For this hike take FR 378 and almost immediately take the side road to the right which goes up hill to the iron gate. After about 0.3 miles take RIGHT 1 (0.3 mi). The straight road will lead to the wrong ridge. Take RIGHT 2 (0.4 mi). A left would lead into Barley Canyon. Enter a stretch until LEFT 1 (1.5 mi), LEFT 2 (1.6 mi), and finally LEFT 3 (2.2 mi). At this point the road gets confusing, but a southward course will lead to the south edge of the ridge and an OVERLOOK (3.3 mi) of the valley and lake below. Return the way you came.
Waypoints
PARK: N35 54.701, W106 39.926
RIGHT 1: N35 54.650, W106 40.152
RIGHT 2: N35 54.723, W106 40.160
LEFT 1: N35 54.829, W106 41.194
LEFT 2: N35 54.782, W106 41.293
LEFT 3: N35 54.457, W106 41.546
OVERLOOK: N35 53.793, W106 42.171
Map Filename:
BarleyRidgetoFentonLakeOverlook_Dnew.jpg
Hike GPS File Name:
BarleyRidgetoFentonLakeOverlookWayTrackMod_DBDB.gpx
Hike GPS File:
Click
link
to download hike waytrack file
Text Author:
Dick Brown
Map Author:
Marilyn Warrant
Waypoints Author:
Dick Brown
Track Author:
Dick Brown
Maintainer:
Howard Carr
Editor:
Marilyn Warrant