Bandelier – Back Gate to HQ Hike
In Los Alamos Region
Map File Source: NG Topo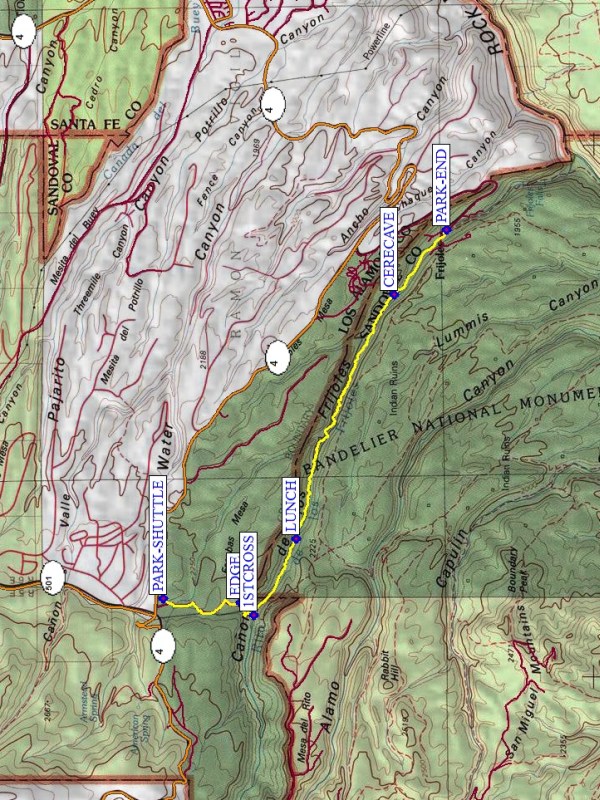 Hike Key:
H10102
Last Updated:
03/10/2021 12:00am
Last Updated By:
Marilyn Fixer
Hike Class:
C (Challenging)
Hike Distance:
8.1 mi
Minimum Elevation:
6066 ft
Elevation Change:
1513 ft
Total Uphill:
1121 ft
Total Downhill:
2634 ft
Avg. Grade:
10 %
Route Type:
Oneway
On Trail:
Paved or Gravel Roads:
GPS Advised:
Drive Distance Round Trip:
210 mi
Drive Time One-Way:
2:15
Hiking Seasons:
Spring, Summer, and Fall
New Mexico Game Unit:
6C
Hike Status:
Inactive
Highlights
Mostly downhill hike along trail to Frijoles Creek. Rock formations, wildflowers, creek crossings.
Cautions
Hiking poles will help on the steep sections. Recovering from the 2011 Las Conchas fire.
Trailhead Directions
I-25 north to the 599-B exit (Relief Route around Santa Fe). At Pojoaque, turn towards Los Alamos. Follow signs to Los Alamos. You'll be on Trinity Street. Continue until you get to Diamond Drive. Then go left, crossing the bridge, and follow signs to go to State Road 4 to the Jemez. Go 4.5 miles after crossing the bridge to a stop sign. Turn left and look for a sign for Ponderosa Campground on the right. Pull in there and let out the hikers who want to go the whole distance at PARK (0.0 mi). Then the van and those who want to go on a shorter hike continue on this road 9.5 miles to the entrance gate to Bandelier. Follow the road 3 miles to Headquarters at PARK-END. If the van driver is participating in the long hike, then a shuttle will return the driver to the Back Gate starting point.
Actual Hike
This is actually two hikes. Those wanting the long hike are dropped off at the Campground. Those who want a shorter hike stay with the van to Headquarters. The group left off at the Campground follows the trail to Upper Crossing. It goes out to the EDGE (1.2 mi) of Frijoles Canyon, switches down into the Canyon to Upper Crossing 1STCROSS (1.7 mi), then follows the stream all the way past the Ceremonial Cave (CERECAV (6.9 mi)) to headquarters at PARK-END (8.1 mi). While in the canyon, the trail crosses the Creek umpteen times, in varying degrees of difficulty, none too hard. At headquarters the second group of hikers, and optionally the van driver, can go through the museum, explore the ruins and walk up Frijoles Canyon until they meet the others coming down the trail.
Comments
OPTION FOR SHORT HIKE FROM HEADQUARTERS.
This hike is currently inactive until checked out. Parts of the trail were severely burned in the 2011 Las Conchas file.
Waypoints
PARK: N35 49.974, W106 21.440
EDGE: N35 49.088, W106 21.499
1STCROSS: N35 48.928, W106 21.677
LUNCH: N35 48.443, W106 20.605
CERECAVE: N35 47.321, W106 17.148
PARK-END: N35 46.718, W106 16.240
Map Filename:
Bandelier-BackGatetoHQMap_MW.JPG
Hike GPS File Name:
Bandelier-BackGatetoHQWayTrackMod1_MW.gpx
Text Author:
Frances Arnold
Map Author:
Marilyn Warrant
Waypoints Author:
Marilyn Warrant
Track Author:
Marilyn Warrant
Maintainer:
Marilyn Warrant
Editor:
Howard Carr