Cerro Rendija Hike
In El Malpais Region
Map File Source: Garmin BaseCamp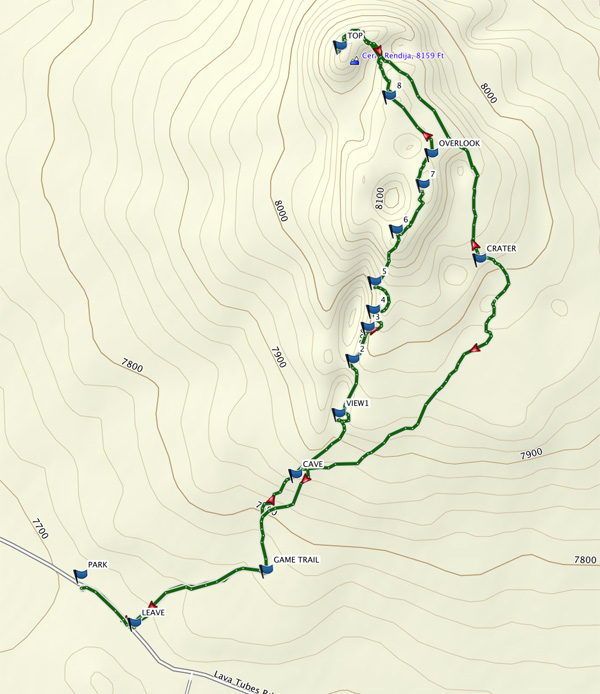 Hike Key:
H10626
Last Updated:
12/15/2020 12:00am
Last Updated By:
Marilyn Warrant
Hike Class:
C (Challenging)
Hike Distance:
3.1 mi
Minimum Elevation:
7693 ft
Elevation Change:
497 ft
Total Uphill:
924 ft
Total Downhill:
976 ft
Avg. Grade:
6 %
Route Type:
Lollypop
On Trail:
No
Paved or Gravel Roads:
No
GPS Advised:
Yes
Drive Distance Round Trip:
235 mi
Drive Time One-Way:
2:15
Hiking Seasons:
Spring, Fall, and Winter
New Mexico Game Unit:
13
Hike Status:
Published
Highlights
A unique hike through a mixed conifer forest while following along a large, deep lava crack (rendija in Spanish) in a shield volcano in El Malpais National Monument. Also a cave to explore.
Cautions
Hiking poles recommended, as well as long pants and gloves due to hiking in rough volcanic lava and steep terrain.
Trailhead Directions
From Albuquerque, take I40 west for about 85 miles to Exit 81 on the west side of Grants. Go south on NM 53 for 26 miles, then turn south on CR42, also called The Chain of Craters Backcountry Byway. At about 5 miles, you will pass the first turn for Lava Tubes Road on the left; continue another 2 miles to the next road going east. This is the southern exit for the loop that makes up Lava Tubes Road. If road conditions are bad, you may have to park at this intersection (ALT PARK) and walk in– which will add 2 miles to the total distance of the hike.
If the road looks passable, turn east and travel about 1 mile until you are past the private property signs and park on BLM land. Both sides of this road are private property so do not park or venture off the road until you reach the end of the fence and the BLM sign.
Actual Hike
There are two GPX tracks. If you wish to avoid the roughest lava, use the track dated Oct 2016. This track will take you further north and away from the sharpest lava. If you are not intimidated, the most interesting route is the April 2018 track and will traverse along the very top in the most rugged lava and is the hike description written up below. The difference between the tracks is only on the portion from OVERLOOK to TOP.
Hike east along the road to LEAVE (0.1 mi), then turn north through a meadow, then a mixed conifer forest of Ponderosa, pinyon and juniper. Watch for cryptobiotic soil in the area near the road. Soon you will pick up the GAME TRAIL (0.3 mi) and walking will be easier for a short distance. As you gently climb up this cinder cone, you must carefully pick your way through dead trees and brush. You will notice the size and amount of lava increases as you make your way higher. Hiking poles will become more useful to help maintain footing as you get closer to the top.
At about 0.5 miles, start looking to the west, (left), for signs of the CAVE (0.5 mi). This is the bottom of the nearly 1 mile long, north-south running crack for which this shield volcano is named. Bring flashlights and cautiously wander in and around the one room cave, then follow the GPX track north.
There is no trail but stay close to the east side of the crack edge as there are multiple viewpoints along the way. From VIEW 1 (0.7 mi), the waypoints are approximate locations, and there are at least seven if you investigate. Look for open areas that are easy to reach to find views into the rendjia. Observe that the bottom of the ravine is filled with grass and possibly wildflowers and the steep walls are made of rugged, jagged lava. You will find a wide diversity of terrain and vegetation as you make your way up to OVERLOOK (1.2 mi) which is the first of two peaks on this shield volcano.
This is a good lunch spot with excellent 360 degree views with wide vistas and panoramas that include southern views of other cinder cones that make up the Chain of Craters, large volcanic fields extending for long distances, Mt. Taylor to the north, sandstone bluffs to the east and the Zuni Mountains to the west.
From here the lava becomes very rugged and sharp and you must use extreme caution. This is the time to put gloves on and carefully make your way toward the second peak which is considered the summit of Cerro Rendija. You will encounter a dip in the terrain between the peaks with less lava, then another rough lava patch as you reach the final TOP (1.5 mi). There is limited space here but wonderful views. To return, go downhill from the summit the way you came and continue a bit further north and away from the rough lava. The hill here is steep so still not easy walking.
As the clockwise track makes it's way back downhill towards CRATER (2.0 MI), observe some alligator junipers and deep lava depressions along the way. At CAVE (2.5 mi), you will reconnect with the previous track and follow it back to PARK (3.1 mi).
Comments
Once off pavement, both Chain of Craters Byway (CR42) and Lava Tubes Road are impassable when wet.
This is not a long hike but because of the rough terrain, it's very challenging.
If time permits, visit the El Malpais Visitor Center which is a short drive from exit 85 off I40. Excellent information, brochures, maps and geology information.
Waypoints
ALT PARK: N34 56.728, W108 09.121
PARK: N34 56.374, W108 08.258
LEAVE: N34 56.313, W108 08.172
GAME TRAIL: N34 56.380, W108 07.961
CAVE: N34 56.503, W108 07.915
VIEW1: N34 56.581, W108 07.846
2: N34 56.650, W108 07.824
3: N34 56.691, W108 07.791
4: N34 56.713, W108 07.711
5: N34 56.9750, W108 07.789
6: N34 56.816, W108 07.754
7: N34 56.874, W108 07.712
OVERLOOK: N34 56.914, W108 07.698
8: N34 56.988, W108 07.765
TOP: N34 57.052, W108 07.844
CRATER: N34 57.779, W108 07.621
Map Filename:
Cerro Rendija Map.jpg
Hike GPS File Name:
CerroRendija 4_18_DM.gpx
Hike GPS File:
Click
link
to download hike waytrack file
Other GPS File Name
CerroRendija 10_16_DM.gpx
Other GPS File:
Click
link
to download other gpx file.
Text Author:
Dawn McIntyre
Map Author:
Dawn McIntyre
Waypoints Author:
Dawn McIntyre
Track Author:
Dawn McIntyre
Maintainer:
Dawn McIntyre
Editor:
Marilyn Warrant