Dino Dig And Hoodoo Pines Hike
In Ojito Region
Map File Source: NG Topo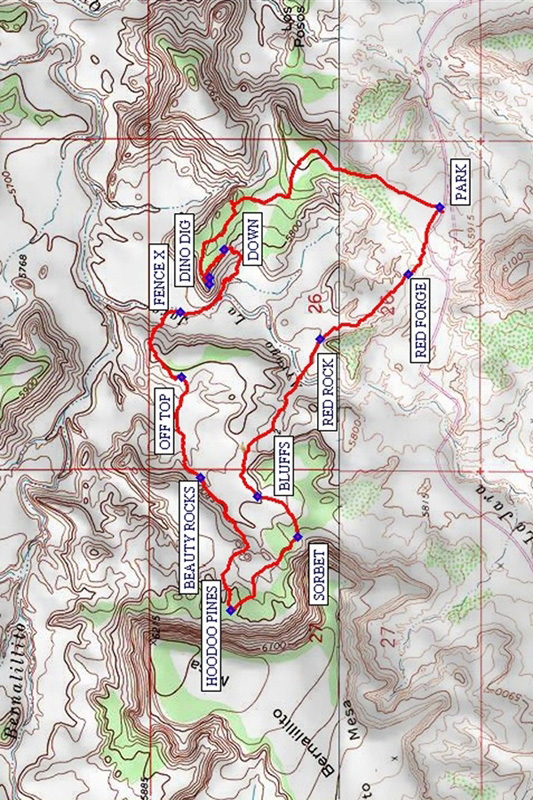 Hike Key:
H10429
Last Updated:
12/15/2020 12:00am
Last Updated By:
Marilyn Warrant
Hike Class:
C (Challenging)
Hike Distance:
4.7 mi
Minimum Elevation:
5733 ft
Elevation Change:
224 ft
Total Uphill:
906 ft
Total Downhill:
906 ft
Avg. Grade:
7 %
Route Type:
Loop
On Trail:
No
Paved or Gravel Roads:
No
GPS Advised:
Yes
Drive Distance Round Trip:
94 mi
Drive Time One-Way:
1:15
Hiking Seasons:
Spring, Fall, and Winter
New Mexico Game Unit:
9
Hike Status:
Published
Access Description:
Ojito Wilderness Area Access
Highlights
A great sampling of the varied terrain of the Ojito Wilderness. There are rocks of almost every color and texture, wonderful gold, white, and pink sandstone hoodoos, and red and gray clay mounds.
Cautions
The hike is 75% off trail with some steep and rough sections. There are plenty of spiny and thorny plants here, so dress appropriately. The dirt road is slick and dangerous if wet or frozen.
Trailhead Directions
From Albuquerque's Big-I drive I-25 north to exit 242, then west on US550 to mile-marker 21 and turn left on Cabezon Road. Mark your odometer as the trail head is 10.1 miles ahead. Stay left at the almost immediate Y in the road and continue straight ahead passing the turn to the industrial mill on the left. You will pass thru Zia Reservation lands and return to public lands and pass by the BLM parking area for the White Ridge Bike Trails. After crossing a four-culvert bridge, the road makes a sharp right turn. When your odometer is at 10.1 miles, on the left there is a turnout and a "Parking Area" sign; park here and the trail head is north across the road at the fence pass-thru and gate. This is the same trail-head as Dinosaur Dig hike.
Actual Hike
Begin the hike from PARK (0.0 mi) following the old two-track to the north and curving to the northwest along the mesa top. At just over a mile reach DINO DIG (1.2 mi). This is the former home of a 130 foot, 90 ton, 150 million year-old Seismosaurus which was discovered by 2 hikers in 1979 and is now a resident at the Natural History Museum in Albuquerque. Just a few feet west of here along the mesa top are some nice petroglyphs at GLYPHS (1.2 mi). After looking at the dig site and petroglyphs, go southeast along the mesa edge to DOWN (1.25 mi). Work your way down the steep slope (20% grade) and follow the arroyo edge west and then north crossing a FENCE X (1.75 mi) and then cross to the west side of the arroyo and go westerly climbing the mesa. Once on the mesa top, walk southwest along the western edge to OFF TOP (2.0 mi) and descend into the valley below. Go west across the valley to the base of the bluffs and turn southwest following the small arroyos. Pass an area of interesting rocks at BEAUTY ROCKS (2.4 mi). When you reach 2 small knobs, turn northwest between them climbing up to the flat area of red and grey mounds, then turn west toward the area of large ponderosa pine trees and white, yellow and pink sandstone hoodoos. This is HOODOO PINES (3.0 mi) and is a scenic place for a break or a fine shady lunch spot. From here follow any of several informal trails southeast to SORBET (3.3 mi) which is a castle-like collection of white, yellow and red striped sandstone hoodoos. Leaving SORBET continue northeast near an old fence line toward the base of some BLUFFS (3.5 mi). Go around the northern side of these bluffs and turn east thru the saddle area following the arroyos to the southeast. Find a crossing of La Jara Arroyo and walk southeast toward a large RED ROCK (4.1 mi). Then follow the arroyo southeast taking the goat trail on the left and uphill to a flat area. Cross the flat to a large red and black area RED FORGE (4.4 mi) and follow the right side arroyo and then up the slope to the road and then to PARK (4.7 mi).
Comments
There are plenty of cactus and sticker bushes to walk over and thru so dress appropriately. This is a good late winter, spring, and fall hike. The access road is slick and dangerous when wet and should be avoided when rain or snow is forecast.
Hike data were determined using the location and altitude readings from a Garmin GPSMap 60CSX.
Waypoints
PARK: N35 29.738, W106 54.391
DINO DIG: N35 30.343, W106 54.617
GLYPHS: N35 30.342, W106 54.637
DOWN: N35 30.305, W106 54.525
FENCE X: N35 30.418, W106 54.728
OFF TOP: N35 30.415, W106 54.934
BEAUTY ROCKS: N35 30.365, W106 55.256
HOODOO PINES: N35 30.286, W106 55.684
SORBET: N35 30.111, W106 55.449
BLUFFS: N35 30.217, W106 55.317
RED ROCK: N35 30.053, W106 54.815
RED FORGE: N35 29.821, W106 54.604
Map Filename:
DinoDigAndHoodooPinesOjitoHikeImage.JPG
Hike GPS File Name:
DinoDigAndHoodooPinesWaytrack_ksks.gpx
Hike GPS File:
Click
link
to download hike waytrack file
Text Author:
Ken Smith
Map Author:
Ken Smith
Waypoints Author:
Ken Smith
Track Author:
Ken Smith
Maintainer:
Ken Smith
Editor:
Marilyn Warrant